Water stream cutting
The technology of cutting materials with a highly pressured water stream can be used for a wide range of applications. The cutting tool of this method is a water stream concentrated in a nozzle and processed with high pressure, or a mixture of water and raw materials. One of the key advantages of water jet cutting is a lack of thermal influence on the material treated. This method doesn?t change the structure of the material cut nor cause tensions which happens in case of other cutting methods. While keeping the narrow line of cutting as well as minimal cutting strength we get a very exact surface free from tensions and pressings. Water jet cutting can be used for all types of materials up to 200 mm thick. It?s the only method available which gives a possibility to cut any shape desired.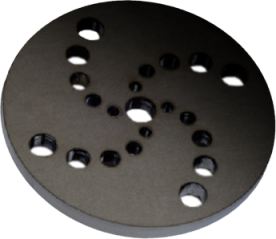 MATERIALS:
Metal, including stainless steel, aluminium, titanium, non-steel materials
Ceramic, glass, bulletproof glass, Ceramika, szkło, szkło kuloodporne.
Stone, including granite and marble.
Synthetics reinforced with fiber, including synthetics reinforced with glass fiber and carbon fiber.
Synthetics including thermoplastics and duroplastics.
Hard and soft foams.
Isolation materials.
Structural and multilayer materials.
Wood, paper, carton.
Caulking materials ex. gum.
Laminates based on fabrics.
Our price depends on the material type and the time of cutting. That?s why in order to estimate the cutting cost, please send us an email with a draft in DXF, DWG format or a technical draft via fax +48 71 333 66 33.
There?s a possibility to estimate the price on the basis of drafts in other formats (as above), a photo or a scan.